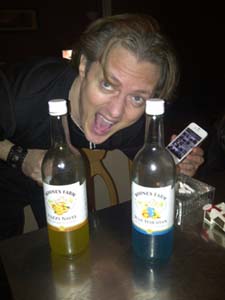 In Episode 8 of The Sunday Jones Comedy Radio Show the wheels come all the way off. Our technical producer Mikey England comes in 3 hours late with a hangover, our sports writer Marky Mark is fired and sent home (after we took his beer), comedian B-RAD goes home early leaving a skeleton crew of Josh, Michaela and Adam to try to run the show.
The dysfunctional panel discusses 2 of their favorite topics this week:
Somehow, poop comes into the discussion often as well. Mikey finally shows up and makes a last minute save of the show, check it out and don't forget to laugh everyday!
As promised during the episode, here is the photo of our famous "HULK" beverage. Made by mixing Green Boone's Farm with Yellow Boone's Farm. Mix up a batch for
yourself and see what happens!
Your friends at The Sunday Jones Comedy Radio Show.
The Sunday Jones is a weekly comedy radio show that features special guests, musical performances and a panel of speakers who weigh in on various topics. The Sunday Jones airs every Sunday from 2pm - 4pm and callers may call in during this time by calling 816-866-7756.
Please keep in mind that you may have to install a PODCAST APP to your computer or mobile device.
The Sunday Jones is produced by KCMB News in Kansas City.
Don't miss this week's episode and remember to call in this Sunday between 2pm and 4pm to be on the show @ 816-866-7756